En vecka har gått sedan den obeväpnade George Floyd kämpade för att få luft under ett våldsamt polisingripande i Minneapolis, USA. Han påstods ha försökt betala med falska sedlar i en butik varpå polisen larmades till platsen. De handfängslade Floyd och tryckte ned honom mot asfalten intill polisbilen. En 17-åring filmade händelseförloppet där tittaren hör och ser tydligt hur Floyd ber om hjälp, och säger till poliserna att han inte kan andas. Senare samma dag dödförklaras 46-åringen.
Black Lives Matter fördömer
George Floyd blev så brutalt behandlad på grund av sin hudfärg, säger Black Lives Matter-rörelsen som gått ut och fördömt händelsen. Samtidigt visar kändisar och medborgare världen över sitt stöd till Floyds anhöriga. Här är några av alla de starka uttrycken för sympati – och kraven på rättvisa just nu.
Demonstrationer världen över

En demonstrant har satt sig på knä framför kravallpolisen under fredagens protester i San Jose, Kalifornien.

Polisen i Coral Gables, Florida höll i helgen en frågestund inför demonstranterna innan de knäböjde tillsammans med dem för att be en bön.

Brittiska The Guardian har samlat bilder från London, New York, Minneapolis, Köpenhamn och många fler städer runt om i världen där människor protesterar mot polisens övervåld och behandling av svarta.
I Mauerpark, Berlin har George Floyds porträtt målats på en graffitivägg tillsammans med citatet "I Can't Breathe/Jag kan inte andas".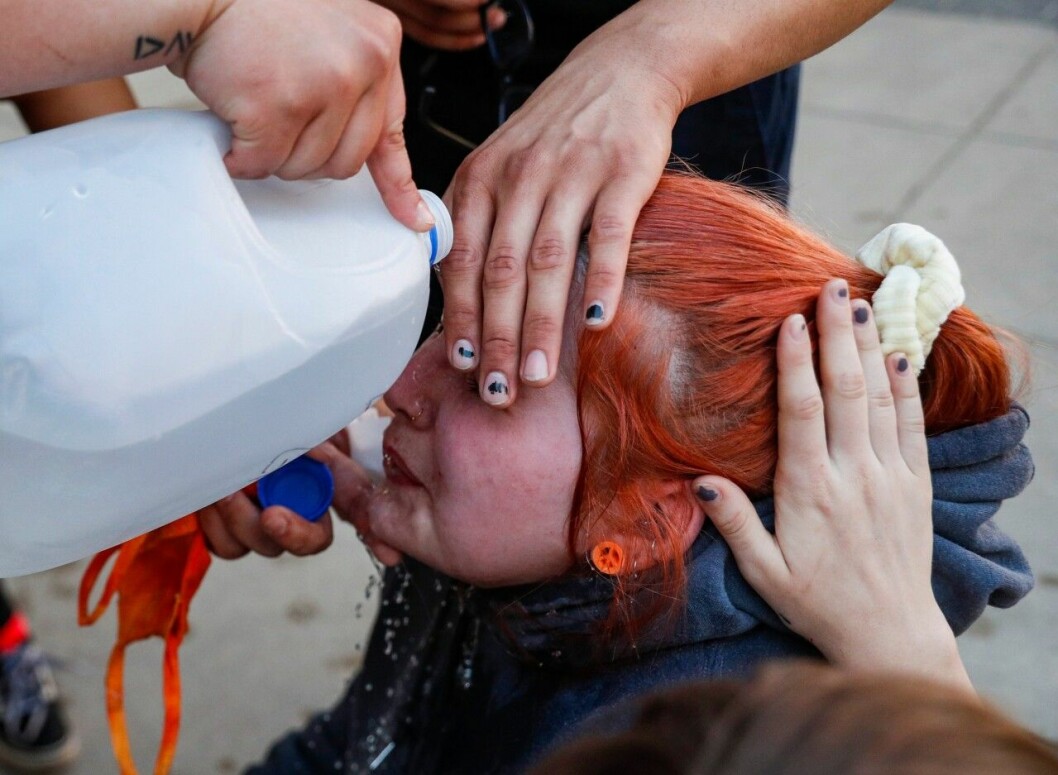 En demonstrant får hjälp att tvätta bort tårgas från sina ögon under söndagens protester i Indianapolis, USA.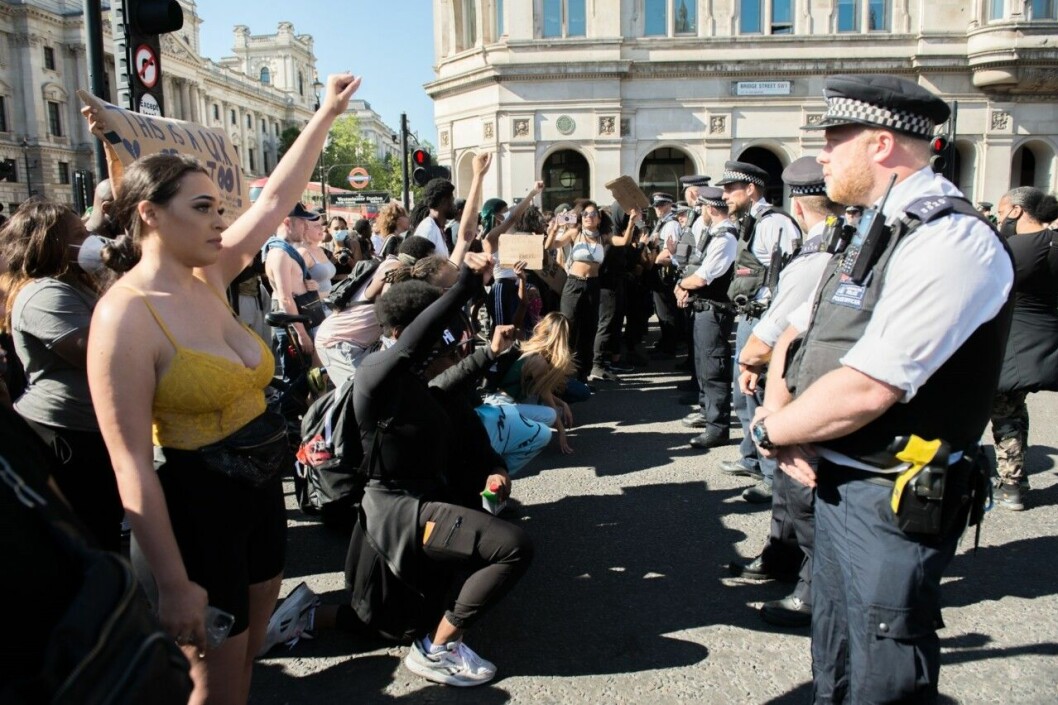 I söndagens protester i London, Storbritannien deltog över 1 600 personer för att visa sitt stöd för Black Lives Matter.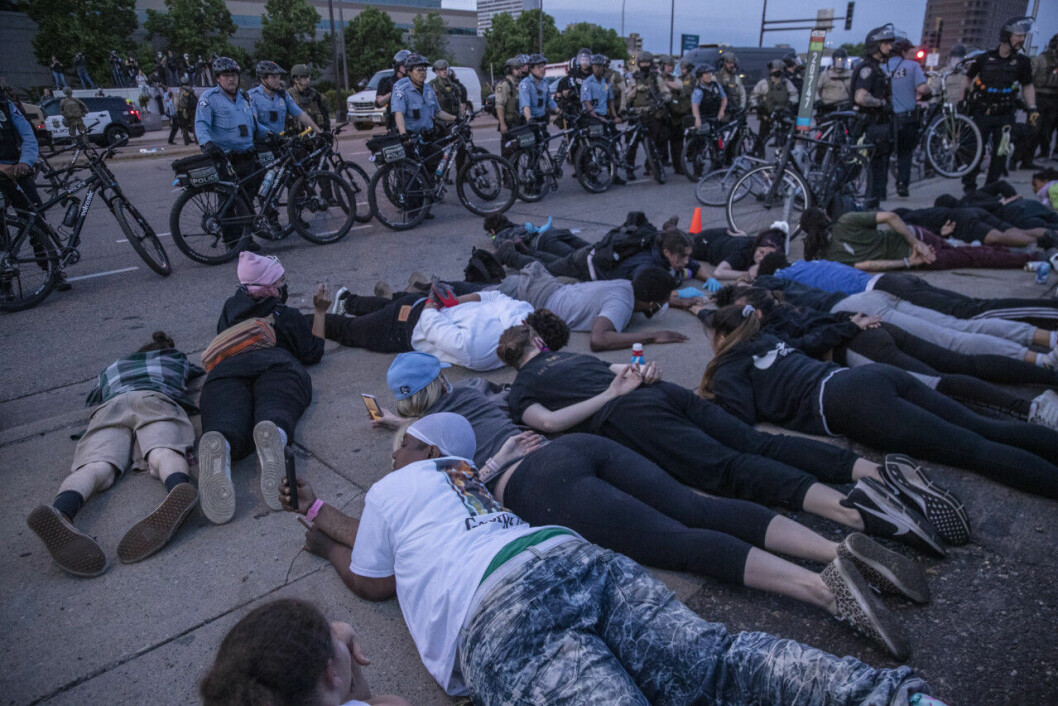 På söndagen greps minst 4 000 demonstranter runt om i USA. Här har polisen i Minneapolis beordrat en grupp att lägga sig på marken.
Kändisar reagerar på George Floyds död

In celebration of whatever the fuck maga night is, I am committed to donating $100,000 to the bail outs of protestors across the country.

— chrissy teigen (@chrissyteigen) May 30, 2020
Chrissy Teigen har lovat att betala borgen för de demonstranter som arresterades utanför Vita huset under Donald Trumps så kallade MAGA (Make America Great Again) Night på lördagen.
"Vi kan inte normalisera detta beteende", säger Beyoncé i den videopost hon gjorde på lördagen. Stjärnan hänvisar även till ett upprop för rättvisa i fallet där endast en av fyra inblandade poliser har åtalats.

Rihanna frågar sig om inte dödstraff är en rättvist påföljd för de inblandade poliserna."Magnituden av den förödelse, ilska, sorg som jag har känt har varit överväldigande milt sagt".

USA:s tidigare First Lady Michelle Obama skriver i sitt Instagraminlägg att "ras och rasism är en verklighet som så många av oss växer upp med och lär oss att bara hantera." Hon postar konstverk på George Floyd, Breonna Taylor och Ahmaud Arbery som alla dödats av poliser.

Oprah Winfrey beskriver hur bilderna på polisens agerande är med henne dag och natt. Att Floyds namn inte får bli ytterligare en hashtag utan ett krav på rättvisa.
Foto: TT, Instagram